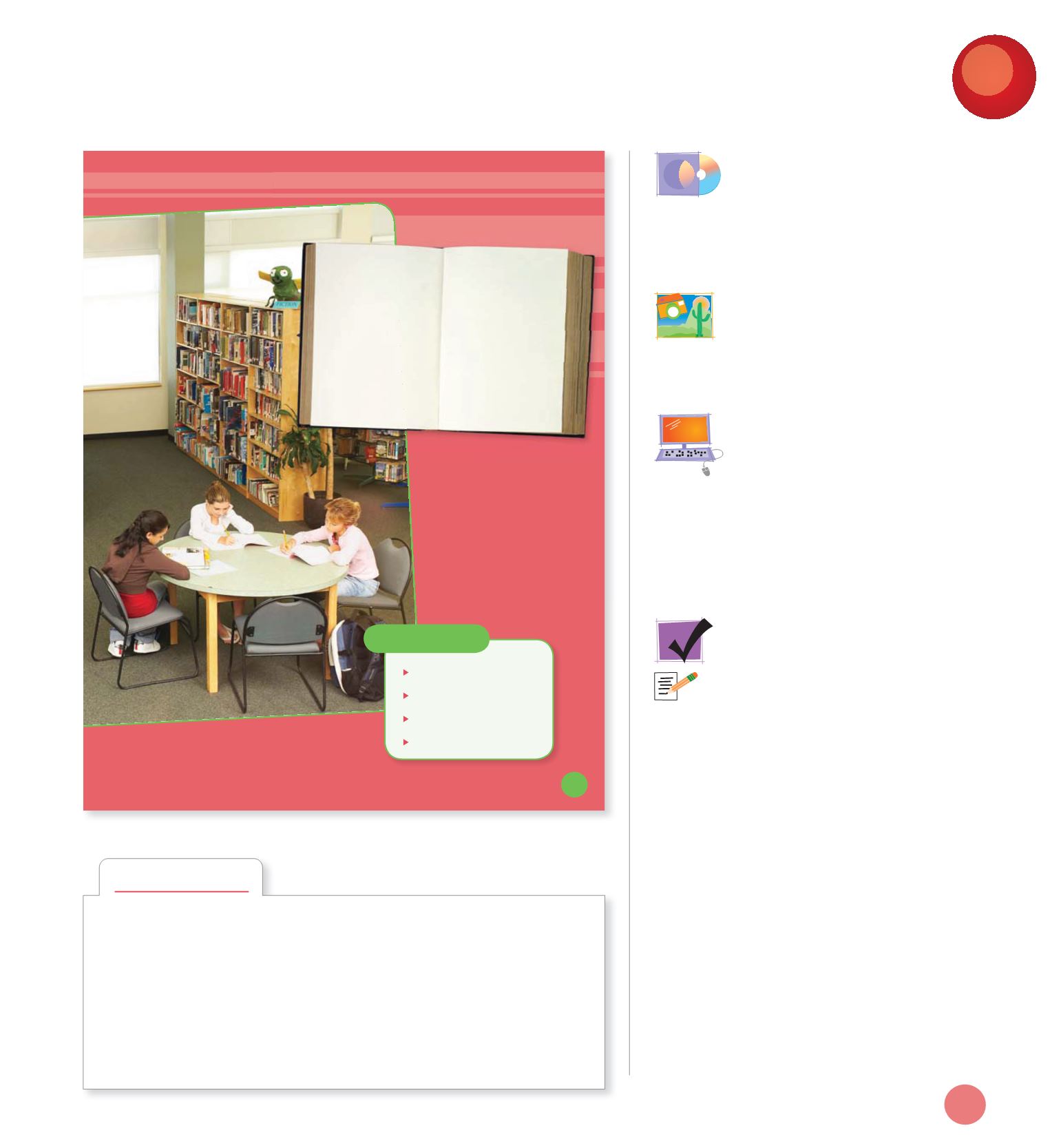 My Community
Unit 4
110b
$
45.(8 94 *=5147*
(422:3.9> 14(&9.438
(422:3.9> <470*78
-.8947.( ':.1).3,8
;41:39**7.3,
1ER] TISTPI ZMWMX QI
IZIV] HE]
7SQIXMQIW XLI] GSQI XS
FSVVS[ XLMRKW JVSQ QI
7SQIXMQIW XLI] GSQI XS
VIXYVR XLMRKW XS QI
- LEZI QER] ZSPYQIW FYX
- EQ EP[E]W WMPIRX
;LEX EQ -#
Photocopy Blackline Masters 2a and 2b on a double-sided sheet
of paper. Then, photocopy Blackline Master 2b on a double-sided
sheet of paper as well (7 sets per student).
Photocopy Blackline Masters 1, 4, 5, 8, 19 and 27 (2 per student).
Gather 3 posterboards, colored markers, dictionaries, sample
newspaper editorials, index cards, hand lenses, and highlighters.
Unit Preparation
Locate the
Spotlight Online
icon in the Unit
Planner and in selected activities in order to
provide reinforcement in basic sight words,
phonemic awareness, phonics, vocabulary
development, and reading comprehension.
Integrated Domains Assessments
While working on specific activities identified
by this icon, use the Comprehension
Assessment Form to evaluate students' reading
and listening comprehension skills. Use the
Production Assessment Form to evaluate
students' writing and verbal production skills.
Both forms are included in the
Assessments
Teacher's Manual
.
Unit Assessment
Use Unit 4 Assessment to measure students'
progress in listening, speaking, reading, and
writing after they have completed this unit.
Spotlight CD
Use CD Tracks 19–24 to provide students with
an enriching listening comprehension and
dual-processing learning experience.
Spotlight Online
Spotlight Assessments
Spotlight Photo Cards
Use the referenced Photo Cards to practice
vocabulary, phonemic awareness, and phonics.
15