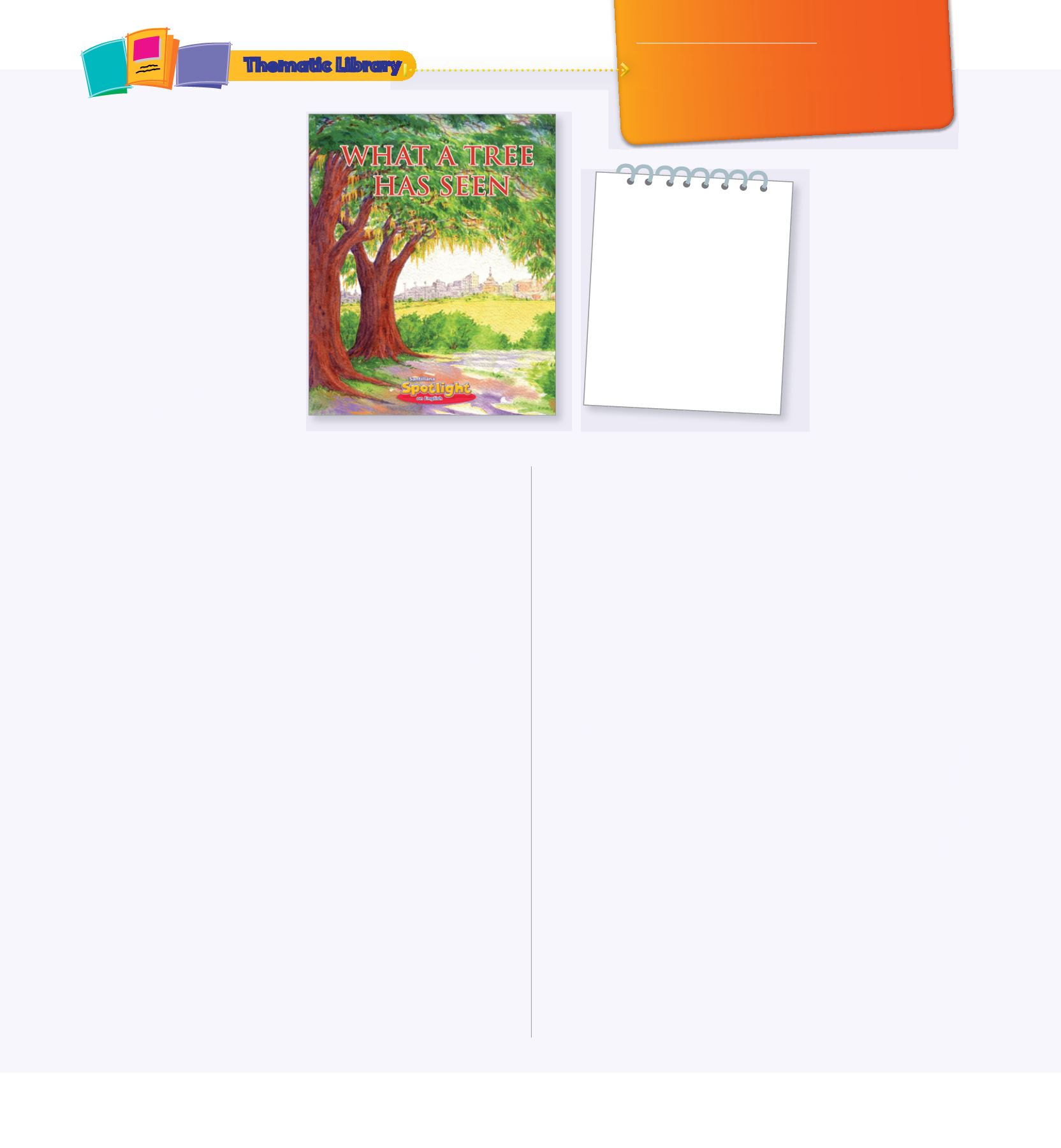 About the Author and Il lustrator
LITERARY RESPONSE
Show
What a Tree Has Seen
to students. Ask students to
identify the title, author, and illustrator of this story. Remind
students that the writer of the story is the author and the
illustrator is the person who creates the pictures.
Frontload Vocabular y
VOCABULARY DEVELOPMENT
Write some or all of the key words on the board and ask
students to repeat the words after you. Explain that the word
oak
refers to both a family of hardwood trees and the kind
of lumber that comes from them. Say
A live oak refers to the
type of tree found in the Southeast U.S. whose leaves do not
change color with the seasons.
Have students volunteer to
explain the meanings of the rest of the words and come up
with sentences using those words.
Activating Prior Knowledge
READING COMPREHENSION
It is important for teachers to tap into what students already
know about a subject in order to help in their learning
process and guide them to relate what they already know
to what they are reading. Ask students questions such as:
What are the types of trees in your neighborhood?
What are some of the things you can do under the trees?
Thematic Library
WHAT A TREE HAS SEEN
WRITTEN BY HOPE WALKER
ILLUSTRATED BY STEPHEN AITKEN
What do the trees in your neighborhood look like?
How old do you think the trees in your neighborhood
might be?
Allow students to express themselves about the history of
the oak tree and the many things that might have happened
during an oak tree's life, and anything else they might
want to discuss. Allow students to discuss the trees in their
neighborhood, in parks, and near their school. Have them
consider the age of the trees and discuss their size and
shape.
Ask students to predict what they think
What a Tree Has
Seen
will be about. Record students' ideas in a column on
a prediction chart and post it on the wall so you can come
back to it after reading the story. Ask students to explain
why and how they made their predictions. For instance, they
may have used the title, illustration, or key words to make
their predictions. Record these explanations in a second
column on the predictions chart.
Words to Learn
Civil War
indigo
majestic
oak
Savannah
the Union
throughout
Yamacraw
Thematic Library lesson
include activities
for frontloading vocabulary, activating prior
knowledge, literary elements, independent
reading and reading fluency.