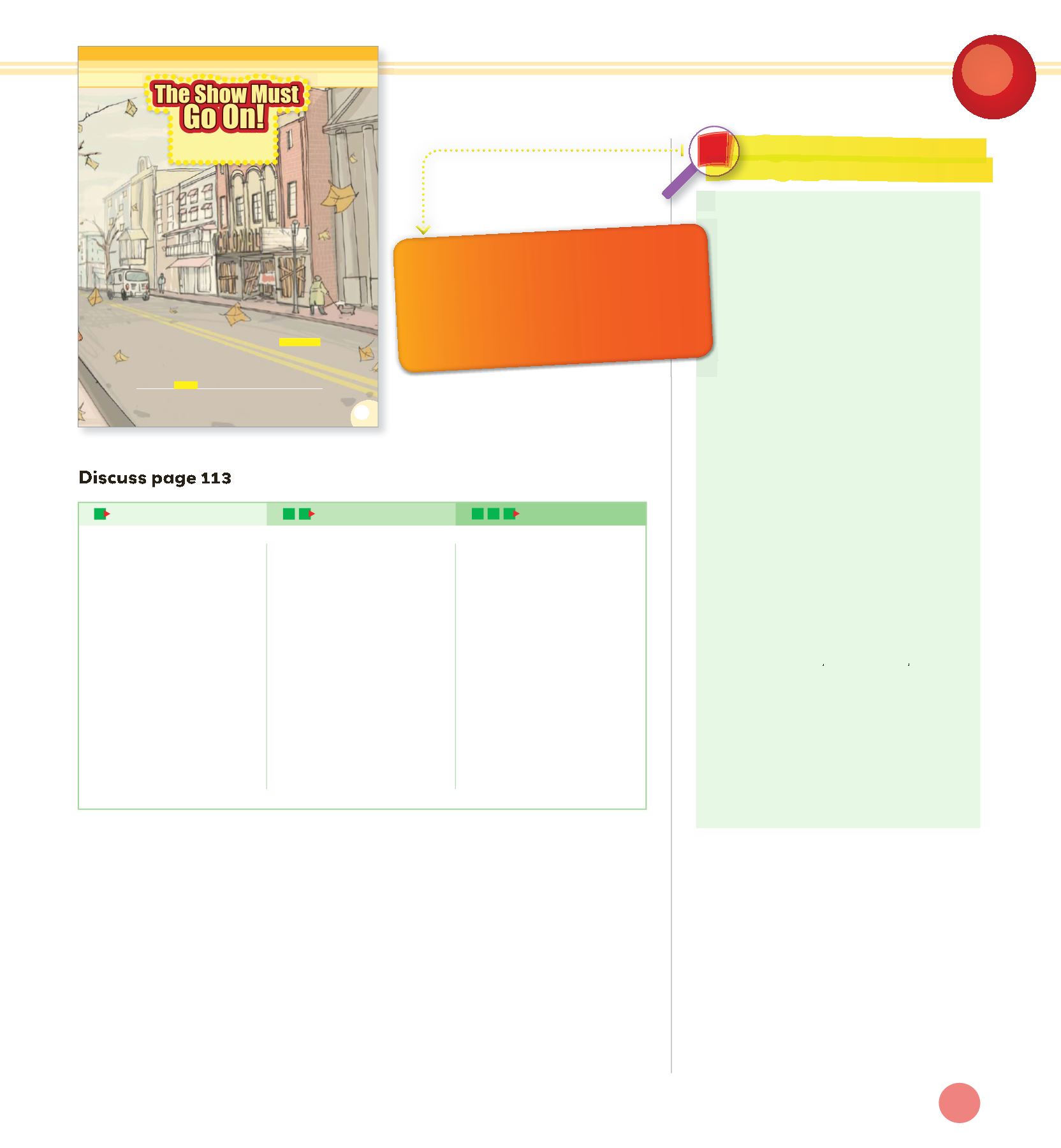 My Community
Unit 4
113
Cause and Effect
Explain to students that a cause is
why something happens, and that
an effect is what happens as a result
of that cause. Sometimes words such
as
because
,
so
,
since
, and
therefore
give clues to indicate cause-and-
effect relationships in a story. A story,
however, may not include these
words and still have cause-and-effect
relationships. Help students identify
cause-and-effect relationships in the
story. For instance, you may mention
that the Colonial Theater is in need of
repairs. The repairs are the reason for
the effect, the closing of the theater.
Sequence
Explain to students that
sequence
is the order of events in a story.
Understanding in which order events
take place in a story is essential to
forming ideas and opinions about
a story. Words and phrases such as
first
,
then
,
finally
,
the next day
, and
tomorrow
. often signal order of events
in a story. Help students identify the
order of events in this story by having
them identify time and order words/
phrases such as those mentioned
above. For instance, have students note
the events on this page as the first of
the sequence of events in the story.
$
#7.99*3 '> *98> *((4
11:897&9*) '> &(:3)4 *>4
Sonia lives in Phoenixville, Pennsylvania. The town
is more than 100 years old. her T e is an old train st
,
ation
an old boat dock, and many old buildings in town.
Sonia loves the Colonial Theater on Bridge Street. She
is sad because the owner is closing it. Her mother told her,
"It's an old theater and needs a lot of repairs. The owner
doesn't have enough money to fix it, so he has to sell it."
X
Where does Sonia
live?
X
How old is the town?
X
On which street is
the Colonial Theater
located?
X
How does Sonia feel
about the theater?
X
Why is Sonia sad?
X
What does the theater
need?
X
Why does the owner
have to sell it?
X
Who is the main
character of the story?
X
What is the name and
age of the town where
the story takes place?
X
What are some of the
features of the town?
X
What does Sonia's
mother tell her about
the theater?
X
What would the
theater need to stay
open?
X
How would you
describe the type of
town Sonia lives in?
X
How does Sonia
find out about what
might happen to the
Colonial Theater?
X
How does Sonia feel
about the Colonial
Theater?
X
Why might the theater
need to be repaired?
X
Why can't the owner
fix the theater?
Beginning
Intermediate
Advanced
Reading Comprehension Skills and
Strategies
boxes through the unit provide
tips to support reading instruction and help
students develop essential literacy skills.
Reading Comprehension
Skills and Strategies
27