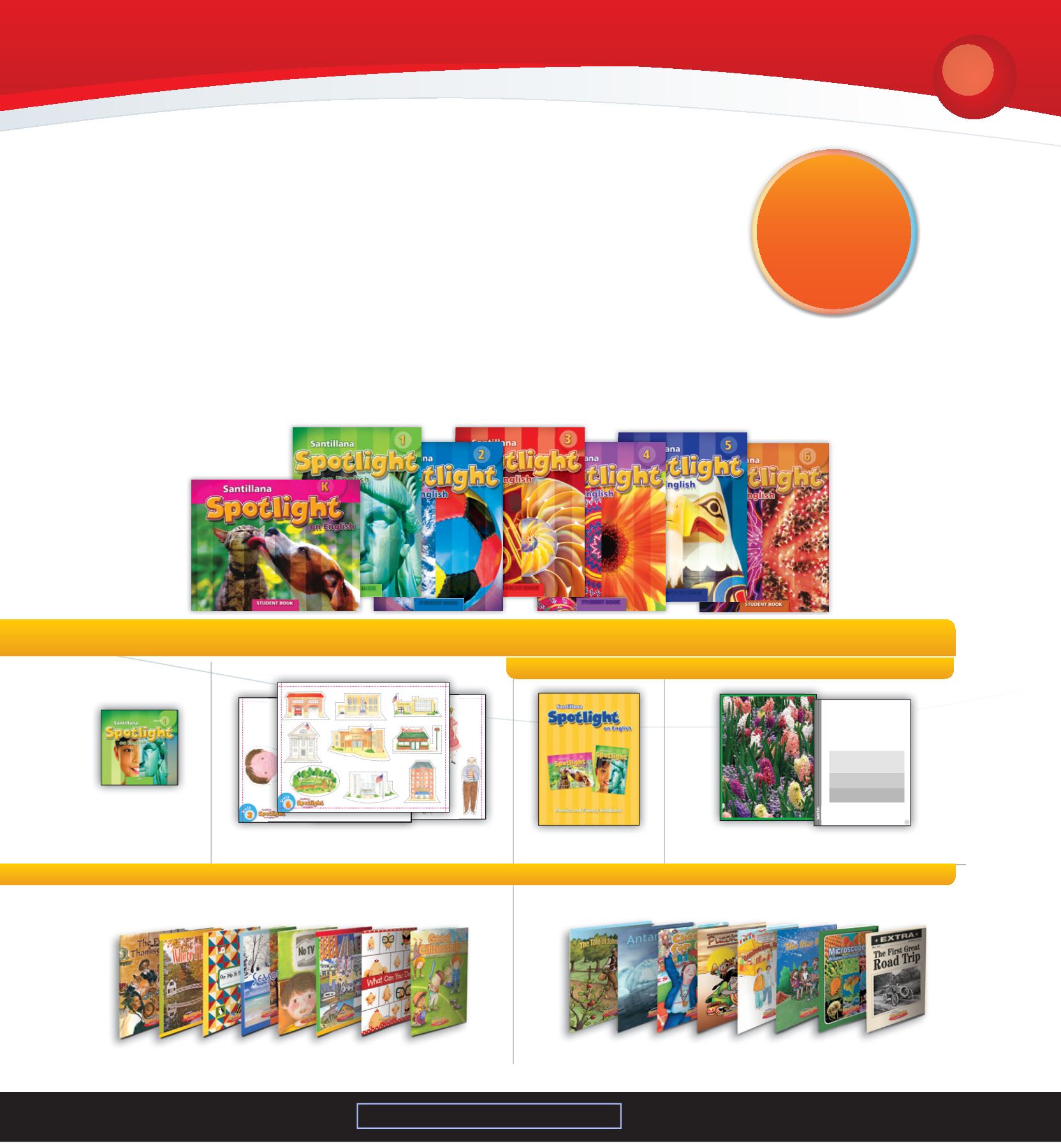 1
Spotlight CD
(K–6)
IdlcEdhiZg8jidjih
8dbbjc^inLdg`ZghEdhiZg8jidjih
7dYnEdhiZg8jidjih
IdlcEdhiZg8jidjih
8dbbjc^inLdg`ZghEdhiZg8jidjih
Poster Cutouts
(Level K)
Phonics and Fluency
Handbook
(K–6)
Advanced
Intermediate
PhonicsandVocabularyActivities
Show students thephoto card.Ask themwhichwordbest describes the image shownon the card.After
students identify thekeyword
flower,
have volunteers use theword in complete sentences.Read the
following sentence to students:
His speech isway too flowery formy taste.
Have students use their prior
knowledgeof
flower
and context clues to explain in complete sentences thefigurativemeaning of theword
flowery
in this sentence.
Show students thephoto card.Ask themwhichwordbest describes the image shownon the card.After
students identify thekeyword
flower,
have volunteers use theword in complete sentences.Use this card to
practice spelling patterns in rhymingwords.Write theword
flower
on the board and ask students to look at
it letter by letter.Dictate thewords
rower,mower,power,grower,
and
lower
and have students explain how
knowing about the spelling of
flower
can help them spellwords that share the same ending.
Beginning
Before displaying the photo card, ask students to draw their favoriteflower.Once the studentshave
completed their drawings, ask them to share theirwork and briefly tellwhy certainflowers are their
favorites.Thendisplay the photo card andwrite theword
flower
on theboard.Slowly pronounce each
sound
/f/-/l/-/ow/-/er/.
Ask students to repeat the soundswith you and blend theword together.Say:
Listen
carefully to thewords I callout. If youhear the sounds
/f/
and
/l/
togetheras in
flower,
standupwith your
flowerdrawing: flop, carrot,flat, boat, fruit,flint, roots,flute.
Write thewordsbeginningwith the sounds
/f/
and
/l/
on theboard and read them aloudoncemore.Have the class chorally sound out thewords and
then blend them together.
The floristhandedFlorence her flowers.
Florence choseherflowerswith aflourish.
She picked florescent tulips and aflushed pink rose,
Aflaxengardenia that sheheld tohernose,
Flawless lilies,andflimsy daffodils.
The bouquetofflowers flaunted its colors.
AffluentFlorence comes fromFlorida
Where thereareflamingflowers but not hills.
Etymology:
fromMiddleEnglish
flour
flower,bestof anything,flour, fromAnglo-French
flur,flour,flaur,
fromLatin
flor-, flos.
(Source:m-w.com
)
Definition:
the part of a plant that is often brightly colored and has a pleasant smell
Forms:
pl.
flowers
Relatedwords:
v.
toflower;
n.
flower child;
adj.
flowery;
adj.
flowerless
FluencyPractice:
Flower
81
EaVcih
Photocards
(K–6)
Classroom Libraries
(K–5)
Thematic Library
(K–6)
EMPOWER ENGLISH LEARNERS WITH
ACADEMIC LANGUAGE AND LITERACY
TO ACCESS GRADE-LEVEL CONTENT!
• Based on scientific research
• Aligned to the Common Core and the National
Curriculum and Content-area Standards
• Created with a content-rich framework—language arts,
math, science, social studies, music, and art
• Developed with multi-level teaching
strategies for differentiated instruction
in every lesson
• Designed to deliver direct, structured, and inclusive
language instruction
EXPLICIT
ACADEMIC
LANGUAGE
INSTRUCTION
STUDENT BOOK
R
STUDENT BOOK
STUDENT BOOK
STUDENT BOOK
STUDENT BOOK
LEARN MORE BY VISITIN
G www.SPOTLIGHTONENGLISH.com o
r CALLING TOLL FREE 1-800-245-8584
PHONICS
LITERATURE