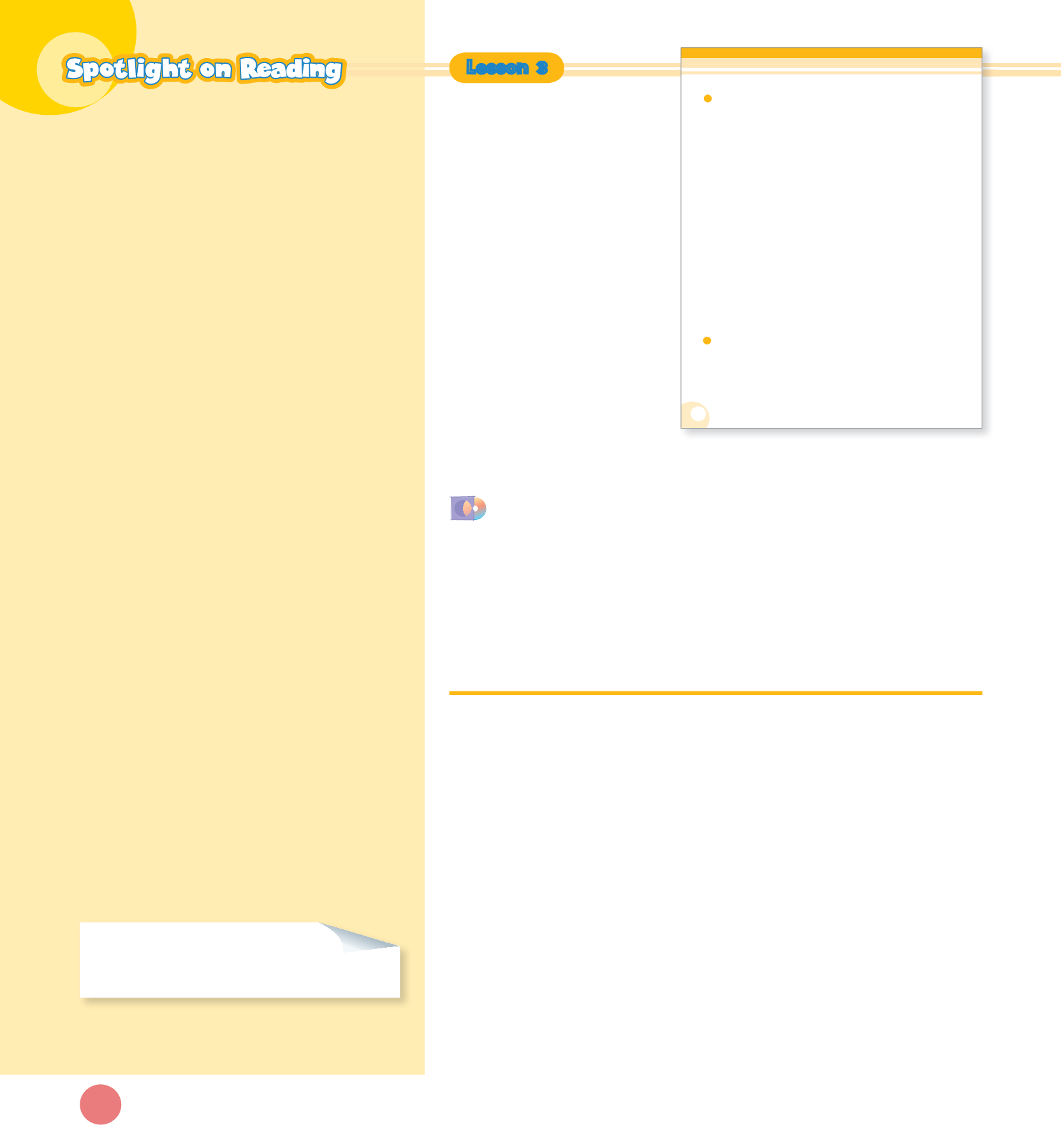 Key Vocabulary
community
mayor
town hall
library
theater
Functions and Forms
Q
Describing community locations
The library is the place to research a topic.
Q
Identifying cause-and-effect relationships
Sonia's signs caused the community to get
involved in saving the theater.
Q
Sequencing events
First, Sonia went to the mayor, and then
she made signs.
English Language Development Skills
Listening
+
Connect and relate prior experiences, insights,
and ideas to those of a speaker.
+
Respond to questions with appropriate
elaboration.
Speaking
+
Organize ideas chronologically or around major
points of information.
+
Use clear and specific vocabulary to communicate
ideas/establish the tone.
Reading
+
Demonstrate comprehension by identifying
answers in the text.
+
Recall major points in the text and make
and modify predictions about forthcoming
information.
+
Extract appropriate and significant information
from the text, including problems and solutions.
Writing
+
Write descriptions that use concrete sensory
details to present and support unified impressions
of people, places, things, or experiences.
+
Spell correctly one-syllable words that have
blends and orthographic patterns.
Materials
CD Track 20
Unit 4
My Community
122
Echo Read
ORAL LANGUAGE DEVELOPMENT
Student Book pages 112–121: Play Track 20 or read the story line
by line, and have students follow the words with their fingers as they echo
each line. Remember that this reading is intended to be used as a basis
for modeling correct pronunciation and intonation of text. You may want
to pause and replay parts of the story to reinforce correct speaking and
listening skills.
Checking
READING COMPREHENSION
Student Book page 122: Read each question aloud. Allow students time to
think about their answers and have them share their answers with the class.
For each multiple-choice question, read each answer option and talk about
why each option is correct or incorrect. Have students answer the Critical
Thinking questions in writing.
Lesson 3
$
-448* 9-* (477*(9 &38<*7
#-> .8 9-* 4<3*7 4+ 9-* 4143.&1 -*&9*7 ,4.3, 94 8*11 .9
* )4*83
'
9 <&39 94 8-4< 24;.*8 &3>247*
* .8 ,4.3, 94 89&79 & 3*< ':8.3*88
* 034<8 9-* 2&>47 <&398 94 ':> .9
* )4*83
'
9 -&;* 243*> 94 7*5&.7 9-* ':.1).3,
#-> )4*8 43.& <&39 94 8&;* 9-* 9-*&9*7
-* <&398 94 8&;* 9-* 9-*&9*7 '*(&:8* 9-* 4<3*7 .8 -*7 +7.*3)
-* <&398 94 8&;* 9-* 9-*&9*7 '*(&:8* .9 .8 5&79 4+ 9-* 5&89
-* <&398 94 8&;* 9-* 9-*&9*7 '*(&:8* -*7 249-*7 1.0*8 9-* ':.1).3,
-* <&398 94 8&;* 9-* 9-*&9*7 '*(&:8* 8-* <&108 '> .9 *;*7> )&>
#-*7* )4*8 43.& ,4 94 1440 +47 .3+472&9.43 &'4:9 9-* 4143.&1 -*&9*7
-* ,4*8 94 9-* 94<3 -&11
-* ,4*8 94 9-* 1.'7&7>
-* ,4*8 94 9-* 9-*&9*7
-* ,4*8 94 9-* &798 (*39*7
#-&9 -&55*38 &9 9-* *3)
43.&
'
8 51&3 <4708 &3) 9-* 4143.&1 -*&9*7 .8 8&;*)
-* 4<3*7 ,*98 243*> 94 A= 9-* 4143.&1 -*&9*7
-* (422:3.9> )*(.)*8 94 9*&7 )4<3 9-* 4143.&1 -*&9*7
43.& )&3(*8 43 9-* 89&,* 4+ 9-* 4143.&1 -*&9*7
38<*7 9-* 7.9.(&1 -.30.3, 6:*89.438 .3 (4251*9* 8*39*3(*8
4< ).) 43.& 47,&3.?* -*7 51&3 &3) 5:9 .9 .394 &(9.43
#-&9 <&8 9-* 7*8:19 4+ -*7 &(9.438
.) 43.&
'
8 51&3 '*3*A9 9-* (422:3.9> =51&.3 >4:7 &38<*7