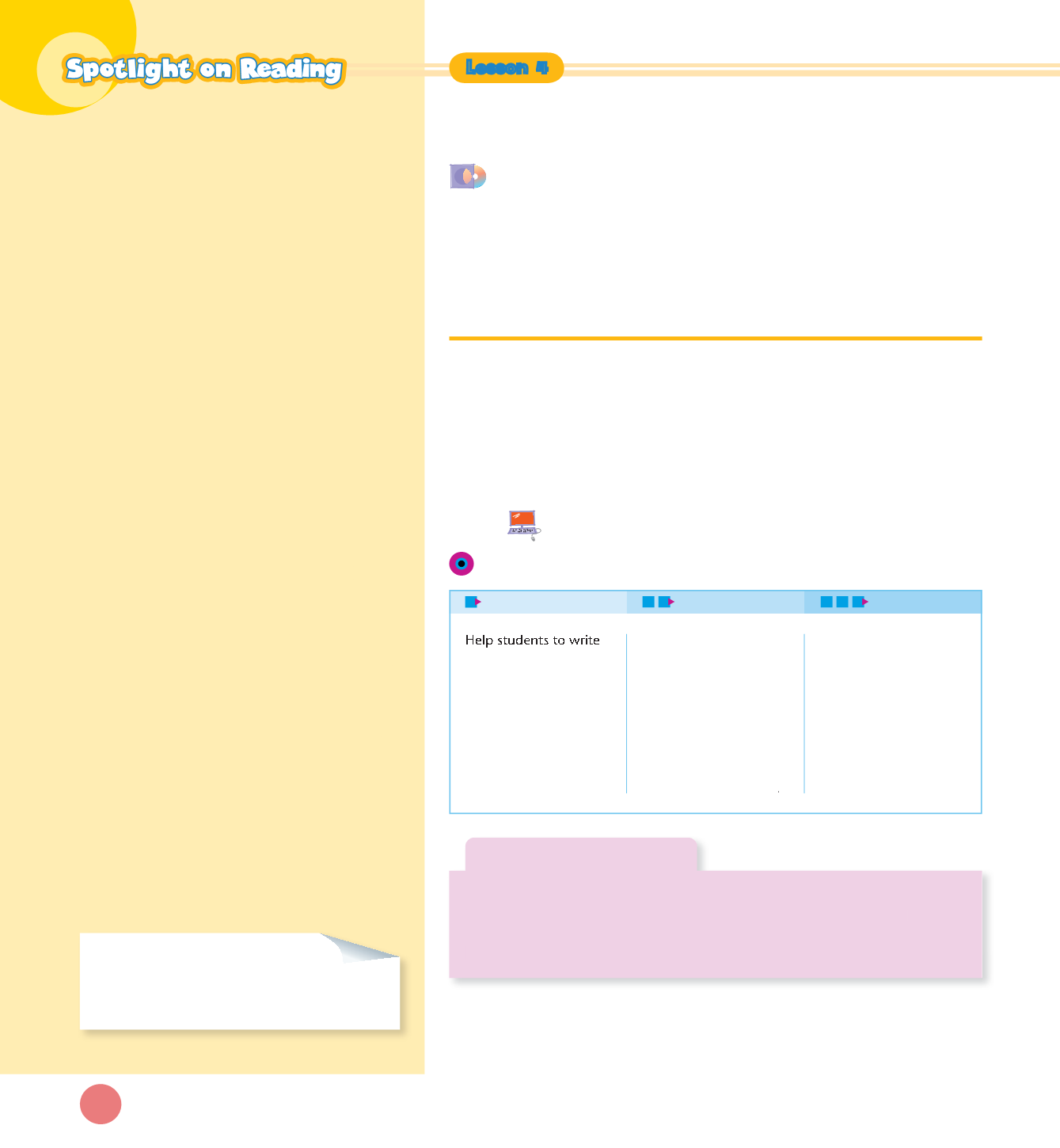 Key Vocabulary
accomplish
buildings
community
historic
summary
Functions and Forms
Q
Describing actions
The group marched in front of the theater
holding signs.
Q
Sequencing events
Sonia saw the sign on the door, then she went
to Town Hall.
English Language Development Skills
Listening
+
Respond to questions with appropriate
elaborations.
+
Connect and relate prior experiences, insights,
and ideas to those of a speaker.
Speaking
+
Read prose and poetry aloud with fluency,
rhythm, and pace, using appropriate intonation
and vocal patterns to emphasize important
passages of the text being read.
Reading
+
Read aloud narrative and expository text fluently
and accurately and with appropriate pacing,
intonation, and expression.
+
Extract appropriate and significant information
from the text, including problems and solutions.
Writing
+
Write narratives that provide a context within
which an action takes place, include well-chosen
details to develop the plot, and provide insight
into why the selected incident is memorable.
+
Write descriptions that use concrete sensory
details to present and support unified impressions
of people, places, things, or experiences.
Materials
CD Track 20
Blackline Master 8
Unit 4
My Community
123a
Group Reading
ORAL LANGUAGE DEVELOPMENT
Student Book pages 112–121: Play Track 20. Have students listen to
the story and follow along in their books. Divide the class into groups and
have each group read the story together. Ask the class to read the story out
loud, having individual students read different lines. Circulate among the
reading groups, helping them practice their reading skills.
Summarizing
LITERARY RESPONSE
Student Book page 123: Remind students that to
summarize
means to
present the important points of a story or passage. Distribute the Sequence/
Chain of Events Graphic Organizer. Read the directions with students.
Model the correct response to the first direction in a complete sentence.
As they respond to each subsequent direction, help students to write
the answers in complete sentences in the appropriate boxes. Then, have
students use their graphic organizers to complete the Summarizing
activity.
Lesson 4
the sentences in their
graphic organizers in
paragraph form. Be
sure they copy the
sentences in sequential
order.
Have students work
independently to write
a summary of the story
based on their graphic
organizers. Encourage
them to use time-order
transition words and to
include details from the
story.
Have students work
with a partner to write
a paragraph based on
the sentences in their
graphic organizers.
Encourage them to add
time-order transition
words, such as
first
,
next
,
then
, and
finally
.
Beginning
Intermediate
Advanced
Targeting Proficiency Levels
Meeting Individual Needs
You may wish to assist students who exhibit or have been identified as having
learning disabilities and cannot comprehend the concept of sequence by
modifying instruction to focus on each summary box as students reread each
section of the story.