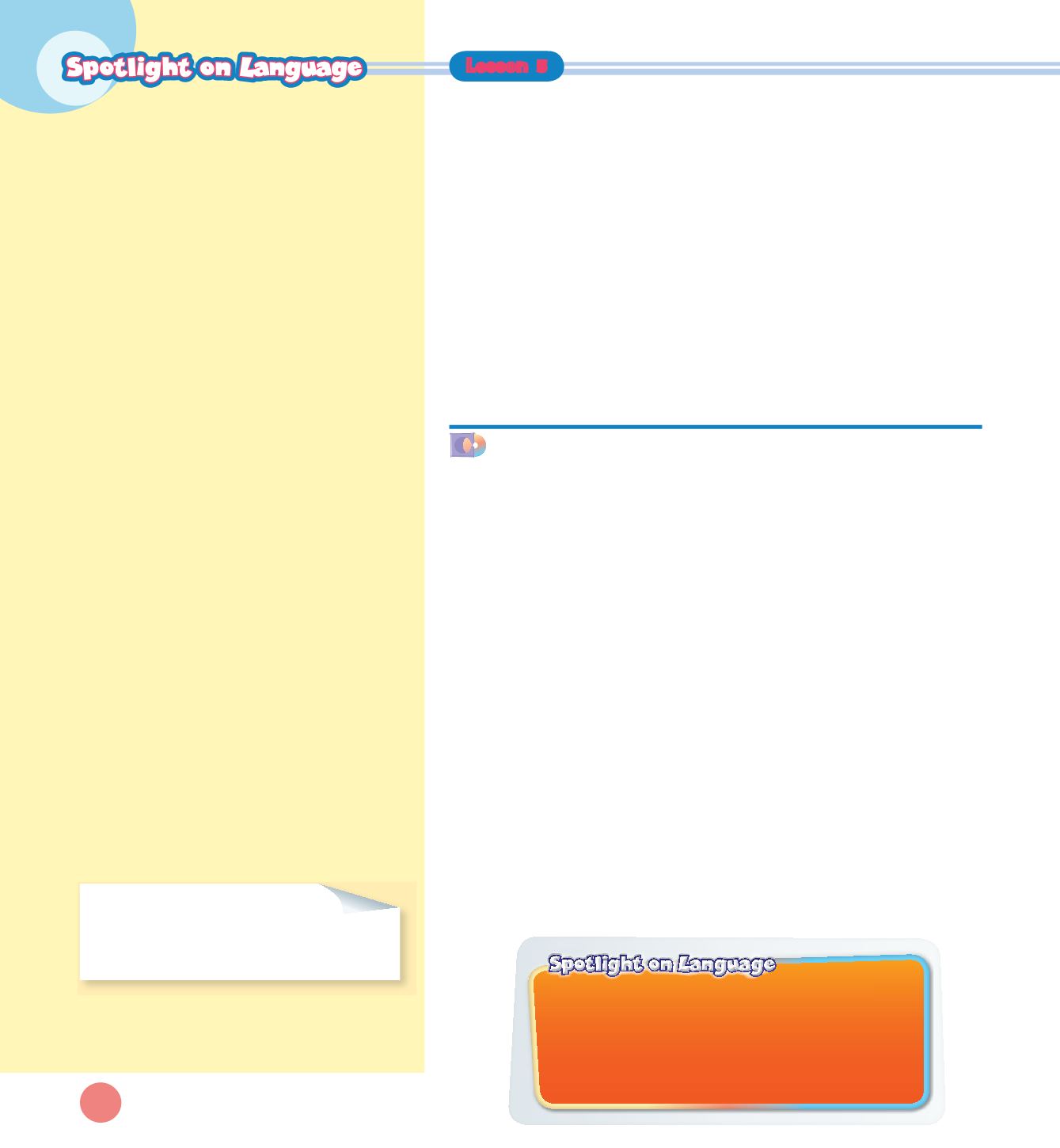 Key Vocabulary
disagree
unable
impossible
unhappy
restart
unusual
rethink
Functions and Forms
Q
Describing actions
When we don't agree, we disagree.
When you retie something, you tie it again.
Q
Describing feelings
I am happy when I play with my friends.
English Language Development Skills
Listening
+
Respond to questions with appropriate
elaborations.
+
Connect and relate prior experiences, insights,
and ideas to those of a speaker.
Speaking
+
Make descriptive presentations that use concrete
sensory details to set forth and support unified
impressions of people, places, things, or
experiences.
+
Use clear and specific vocabulary to communicate
ideas and establish the tone.
Reading
+
Determine what characters are like by what they
say or do and by how the author or illustrator
portrays them.
+
Use knowledge of prefixes and suffixes
to determine the meaning of words.
Writing
+
Use descriptive words when writing.
+
Write descriptions that use concrete sensory
details to present and support unified impressions
of people, places, things, or experiences.
Materials
Community
Photo Cards
CD Track 21
Unit 4
My Community
124
Bui ld Background
ORAL LANGUAGE DEVELOPMENT
Display
Community
Photo Cards that show places. Have students identify
the places and the people who work there. Next, have students discuss how
those people and places connect to the primary reading and to the unit
theme. After that, read the Key Vocabulary aloud to the class as they write
the words in their notebooks. Be sure to enunciate and to allow sufficient
time for each student to write the complete word. Then, write the list of
words on the board, and have students self-correct their spelling.
Note:
The phonics activities on the back of each photo card may be used to
supplement instruction.
Connecting
READING COMPREHENSION
Student Book page 124: Play Track 21. Have students listen to the
conversation. As they listen, ask them to think about what connections
they can make between the images on the Student Book page and the
conversation they are listening to. After they have discussed the connections
between the conversation and the images, have them discuss how this
activity connects to the unit theme and to the primary reading. Then, have
students respond to the questions.
Track 21
Narrator:
Sonia's older cousin David is staying at Sonia's home for the
weekend. She is not very happy, because she and David are unable to
agree on what to do.
Mother:
What's wrong? You don't look happy.
Sonia:
You're right. I'm unhappy. David and I had a plan to go to the
Colonial Theater this afternoon. Now, he doesn't want to go.
Mother:
That's too bad. The Colonial is such an unusual place. What
does he want to do? I don't like when you and David disagree.
Sonia:
It's impossible for me to convince him to go.
Mother:
After what you did to save the theater, nothing should be
impossible for you.
Sonia:
There're things I can't do.
Mother:
Like what?
Sonia:
The computer crashed last night, and I tried to restart it, but I
couldn't. I wanted to see what was playing at the theater.
Mother:
Well, maybe you and David should rethink your weekend plans.
Lesson 5
ORAL AND WRITTEN LANGUAGE AND
FLUENCY STRATEGIES FOR EFFECTIVE
COMMUNICATION!
Spotlight on Language
presents a variety of
activities for students to practice and use vocabulary
and language forms in context.
Spotl ight on Language
g
j
e
g
jg
j