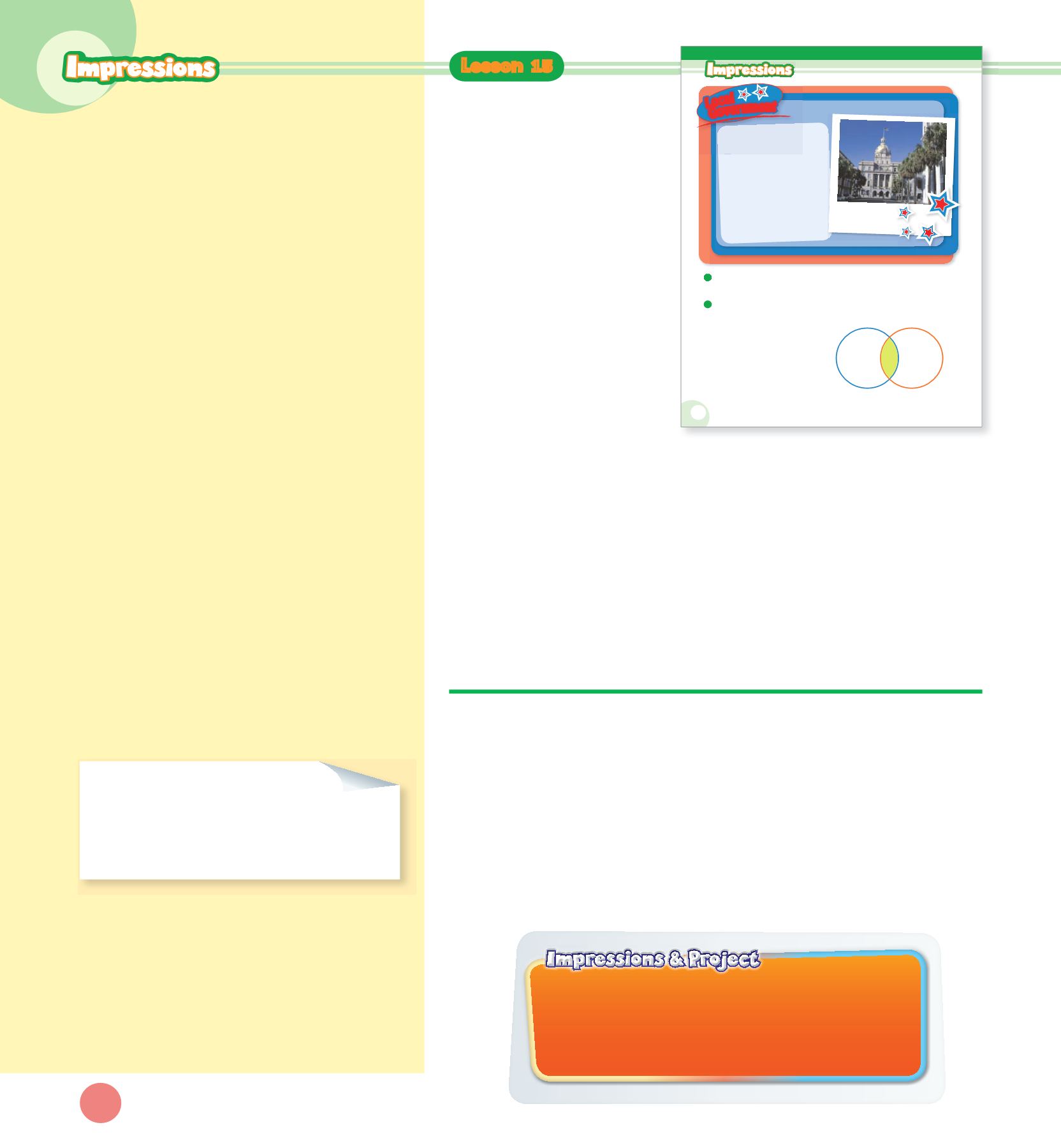 Unit 4
My Community
142
Key Vocabulary
department
government
laws
local
mayor
town hall
Functions and Forms
Q
Comparing and contrasting
My grandparents did not have a library
in their community.
Q
Identifying community services
Our library has storytime every Wednesday.
English Language Development Skills
Listening
+
Connect and relate prior experiences, insights,
and ideas to those of a speaker.
+
Respond to questions with appropriate
elaboration.
Speaking
+
Use clear and specific vocabulary to communicate
ideas and establish the tone.
Reading
+
Extract appropriate and significant information
from the text, including problems and solutions.
Writing
+
Write descriptions that use concrete sensory
details to present and support unified impressions
of people, places, things, or experiences.
Materials
Blackline Master 7
completed Unit 4 Interview
highlighters
Access Prior Knowledge
ORAL LANGUAGE DEVELOPMENT
Distribute students' interviews with family members from the social studies
lesson in this unit. Have students take turns sharing what they learned
about their family's country of origin. Be sure to allow all students to
participate and ask their classmates questions. Encourage students to be
tolerant and polite as they are learning about cultures different from their
own.
Local Government
READING COMPREHENSION
Student Book page 142: Read the passage aloud. Read the directions
with the class. Check that students understand the activities. Model the
appropriate language forms. Remind students what a Venn diagram is, and
distribute the Venn Diagram Graphic Organizer. Help students brainstorm
similarities and differences between the two communities, in response to
the questions in activity B. Then, help them fill the graphic organizer with
that information.
Lesson 15
$
-&7* <.9- 9-* (1&88 842* )*9&.18 &'4:9 9-* (422:3.9> >4: 1.;* .3
&3) 842* 4+ 9-* )*5&792*398 &3) 8*7;.(*8 >4:7 (422:3.9> 574;.)*8
!8.3, & "*33 ).&,7&2 (425&7* >4:7 (422:3.9> .3 9-* !3.9*) 9&9*8
<.9- 9-* (422:3.9> .3 <-.(- >4:7 5&7*398 47 ,7&3)5&7*398 <*7* 7&.8*)
#-&9 <&8 9-* 14(&1
,4;*732*39 1.0*
#-&9 8*7;.(*8 <*7* 574;.)*)
94 9-* 5*451*
makes
The local government
has
laws for a city or town. It
d
t
th t provide
epartmen s
a
services
for the people living there. Some
of those departments include
police, fire, and parks. The leader
of a city or town is often called
the mayor. The mayor works in
a building that is usually called
city hall or town hall.
SPOTLIGHT ON ENGLISH
gives students
opportunities to consolidate unit concepts and apply
them in the
Impressions
and
Project
lessons at the
end of each unit.
Impressions & Project